3 Benefits of Schluter DITRA-HEAT Electric Floor Warming
We've all been there…you roll out of your cozy cocoon of a bed in the morning and shuffle through your plush carpet over to the bathroom, where: ICE! The floor is freezing! You shiver as your formerly toasty tootsies send a chill up your spine. You're sure awake now.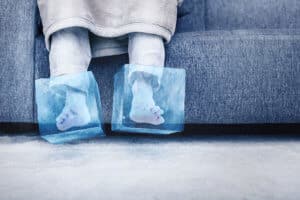 Enter DITRA-HEAT, the premiere electric floor warming system from Schluter. Whether you are installing tile, stone, of LVT floors, you can ensure that you never have to step on icy flooring again. Here are just a few of the benefits of DITRA-HEAT:
Built in Water Proofing
When installing an electric floor warming system in an area where there is significant water usage (such as a bathroom or kitchen), it's important to ensure that water won't fry your system. This is why all DITRA systems are waterproof and vapor-managing. Their polypropylene composition blocks moisture from penetrating the system, which is important since most substrates are moisture-sensitive.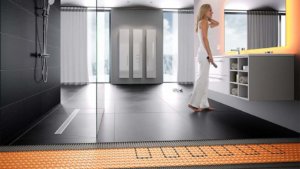 Built-In Uncoupling
Uncoupling is an essential feature for ensuring that your flooring does not crack from uneven weight distribution. The uncoupling layer in DITRA-HEAT uses a geometric configuration to neutralize movement stress on your floor. This feature safeguards your flooring against cracks and protects your electric floor warming system from damage.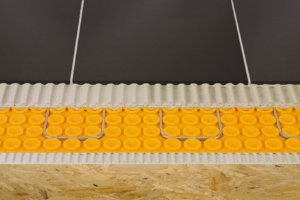 Lifetime Warranty
When you install any DITRA system with a Schluter thin-set mortar, your purchase is guaranteed for life. This full resolution warranty means that Schluter will cover the full cost of your project, including materials and labor. No depreciated value means that your purchase is fully covered for the same amount on year 10 as it is on day 1.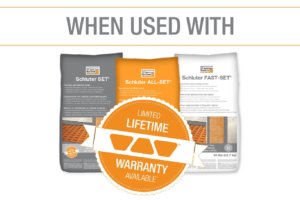 It's easy to see why Schluter DITRA-HEAT flooring is simply a no-brainer. Use the DITRA-HEAT cost estimator to determine the product cost of installing this floor warming system in your space (installation and other fees not included). Install Schluter DITRA-HEAT in your home and never experience cold feet again!
Ready to take the next step? Contact Byrd Tile today to schedule an appointment at one of our three convenient locations. Walk-in customers are welcome. Due to COVID restrictions, there are a limited number of people permitted in the showroom, so appointments will take first priority.
Raleigh Showroom
3400 Tarheel Drive
Raleigh NC, 27609
919-876-5997
Wake Forest Showroom
1002 Durham Rd
Wake Forest, NC. 27587
984-365-8799
Greenville Showroom
240 Forlines Rd
Winterville, NC. 28590
252-756-5997
We look forward to working with you!