GROUT: DON'T BE SCARED
This month we will try and help you understand grout in the following areas:  Color, application and just how much you need to buy.
Selecting your grout color
There are several ways that you can use grout in your project, consider which look you are going for and select based on that.
The Exact Match
The first, and most widely used, is to simply match your tile with a color that matches closest to your tile selection. The photo below shows two examples.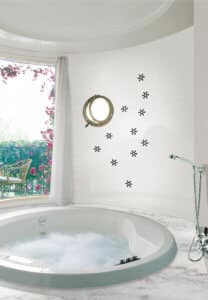 White matte penny round with white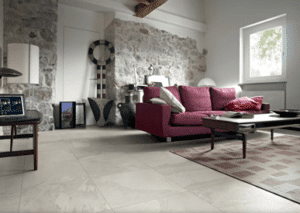 24 x 24 multi-shade porcelain using a shade of grey to match as closely as possible.
In solid color tile it is much easier to "hide" the grout line by matching the tile color.  The white penny round is the perfect example.  The round shape of the tile is visible, even though the grout is a perfect match.
The Contrast
Is it even possible to get more of a contrast than black and white?
Hexagon with black
Using this popular trend (although it is not new) is a beautiful way to highlight your tile.  Although it is ok to contrast any shape tile, it is a common use in oddly shaped tiles such as these Hexagons and arabesques.
Please note, that when selecting grout for a crackle tile: Pigmented grouts can bleed into a crackle finish if not sealed properly and even if sealed well, some pigments are prone to bleeding.  The best choices for your grout is either a close match white or ivory, or a non-pigmented un-sanded grout.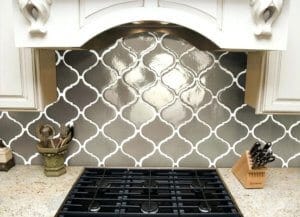 The Compliment
Selecting a color that is complimentary to your tile selection is especially important when you have several different tiles involved in a project.  Maybe you are having a beige subway tile in your shower with an accent tile band. You could contrast with a white, but better to pick an ivory or tan version that most compliments BOTH the accent and the main tile.
In the photo below, you will see a project with two colors of complimentary grout.  An example of more than one grout color that is used to compliment both tiles and blend the project perfectly.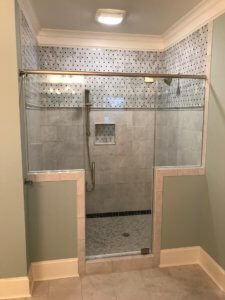 If selecting a color is overwhelming to you, allow our Design Consultants to make recommendations, they have a great knowledge of what works!  Schedule your appointment today!
You can go HERE  to check out a list of the Bostik colors available.
Application
There are two basic types of grout available depending on the project.  Although there are other types, these are the most commonly used to choose from. Ask if you are unsure which to choose.
Vivid by Bostik which is our most popular grout.This is a rapid curing, premium grade, stain resistant grout.  Perfect for most applications.
Sanded
Unsanded
Epoxy is harder to work with, however, is very sturdy.
How much grout do I need?
Your tile professional will be able to tell you just how much grout is needed for your project, but if you are doing a project yourself here is a handy link on calculating the amount needed:
https://www.bostik.com/canada/tools-and-training/grout-calculator/