We take pride in the variety of stock tile that we have to offer.  Selected carefully for quality, craftsmanship, and the latest trends, you will have a good variety to choose from.  When selecting your tile, there are several factors that you need to consider.
Firsthand Look
By selecting stock tile, you are able to get a look at the exact product you will be taking home.  'Lots' can sometimes be slightly different from the samples we carry in our showroom, but with stock material you are able to see the actual pieces you will be purchasing.  If you need to check out a sample and take it home to see if works with your plan, we can help you with that!

Timing – No Wait time
Timing is everything!  If you don't have time to wait for a special order tile, our stock material is readily available to meet your needs. By choosing from our stock selections, you are able to walk-in, select your tile, and walk out with your tile all in the same day.  While it can be worth the wait to order from our special-order offerings, the wait can be anywhere from 1 week up to 8 weeks for some of our hand made products.
This works the same if your project runs short on tile.  Just give us a call and we will be happy to have it ready for you!
But is Stock a Better Choice than Special Order
We love all of the products that we have to offer you.  With that said, some of our stock items are similar to special order products but come at a fraction of the price.  To add to the savings, stock material does not have the shipping fees associated with special order.  Saving you even more!
Our staff has a good knowledge of our stock material in order to better serve you.  Because these materials are ours, we have firsthand experience with it!
Check out our website for a look at some of our stock material offerings.
Or stop into any one of our 3 convenient locations!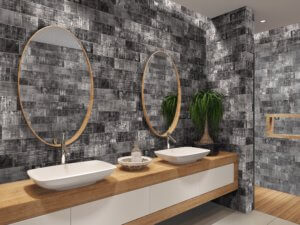 Raleigh Showroom
3400 Tarheel Drive
Raleigh NC, 27609
919-876-5997
Wake Forest Showroom
1002 Durham Rd
Wake Forest, NC. 27587
984-365-8799
Greenville Showroom
240 Forlines Rd
Winterville, NC. 28590
252-756-5997