COLOR, COLOR, COLOR!
Whether you like bright and bold, or monochromatic colors, your color choice is the first thing to think about when selecting tile.  We offer a large selection of color and design choices for you to choose from!
Brilliant Colors
There are too many brilliant colors to list here.  So, we will name a few to whet your appetite!
Riviera from ADEX is one of our exclusive lines of designer tile that we feature in our showrooms.  Check out these beauties.
Glass Tile By Villi Glass
Known for its wide palette of bright, rich colors, glowing neutrals, stunning textures and gorgeous mosaics, these tiles are manufactured to exacting specifications, utilizing patented multi-step processes that produce a depth of texture and reflectance.  Love these colors!  Again, an exclusive line!
Colorful Stock Tile
Joyful is one of the tiles that we stock in our warehouse.  Colors available are Milk, Steel, Grigio, Sage, Sky, and Ash.  All other colors are available as special order.
Ann Sacks
We are now offering Ann Sacks designer tile in all of our showroom.  They have a wide range of color options for their ceramic tile lines.  Persimmon is our favorite!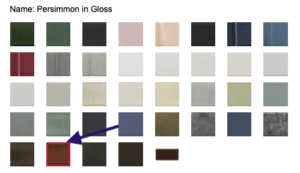 Sonoma Tile Makers
Sonoma Tile Makers, makers of handmade tile, has a huge selection of color options for their tile lines.  Check out this brochure to see the color options for the Stellar line alone!
Monochromatic
Monochromatic colors are all the colors of a single hue. Monochromatic color schemes are derived from a single base hue and extended using its shades, tones and tints. Tints are achieved by adding white.  Shades and tones are achieved by adding a darker color, grey or black. Wikipedia
Monochromatic does not mean neutral, rather it means staying in the same family when creating your design.  The picture below uses two completely different tiles in the same color hues to bring this design together.
Contrasting color
Exactly as is says, two completely different colors, one light and dark that are in stark contrast to one another.  The beauty of this is that each one makes the other stronger.  You can also mix material when contrasting your colors.  The different materials like natural stone alongside a glass or ceramic tile can look amazing.  Be creative and change it up!
Want to know about the Color of the Year for 2020, classic blue?  Check out this article !!!
We would love to serve you in any of our 3 locations.  Call or go online to schedule an appointment for design assistance!  Walk-in customers are welcome to come and browse, remember that there is a limit to the number of people in the showroom as you come and appointments will take first priority.
Raleigh Showroom
3400 Tarheel Drive
Raleigh NC, 27609
919-876-5997
Wake Forest Showroom
1002 Durham Rd
Wake Forest, NC. 27587
984-365-8799
Greenville Showroom
240 Forlines Rd
Winterville, NC. 28590
252-756-5997