The holiday season is upon us, and with the holidays come family gatherings, dinner parties, and hosting a variety of guests. Although tile flooring is traditionally thought of as the choice for kitchen and bath areas of the home, tile doesn't have to be limited to those traditional uses. Tile flooring is a practical, gorgeous flooring option that can also be used in places of gathering such as your dining room.
Tile Flooring in Your Dining Room
When choosing floor for your dining room, you want to think of practicality. Especially during this time of year, the dining room is utilized for holiday get-togethers and dinner parties, so create a look that's memorable. Standout tile flooring is one great way to achieve this look. Ceramic, Porcelain and Slate are great options for this.
Among the most economic options, Ceramic Tile is great to use for your dining room flooring. It is easy to clean, stain-resistant, and is easy to replace if accidentally cracked or chipped, making it a fan favorite for practical uses throughout a variety of areas around the home.  Ceramic is also resistant to moisture, which makes it the perfect choice for a dining room.
Although more expensive, Porcelain Tile has great durability, is stain resistant, has minimal water absorption, is easy to wipe clean and stands up well to wear and tear. These details make it a great choice for those high-traffic areas, such as dining rooms.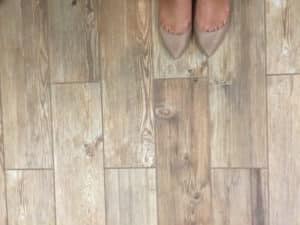 Wood-look Porcelain Tile is a wonderful option if you want the wood-floor look matched with long-lasting performance and versatility.
For a more natural stone look with darker, earthy color palette of copper to red, navy to sage, and tan to black, polished Slate is another great option for high-traffic areas that will make a great impression on your friends and family.
No matter what tile flooring you decide to choose for your dining room, it's sure to create a unique, lasting impression on your guests, and a look that you can enjoy for years. If you would like help creating a magnificent gathering space in your home, contact one of our expert designers at Byrd Tile who can help you create a look unique to your tastes.
Happy Thanksgiving to all! We're thankful for our wonderful customers who entrust us to make their home even more beautiful.