The holidays are a time of busyness: running around on errands, cooking, shopping, cleaning, traveling, juggling. Smartphones tucked in our pocket; the world (literally) always at our fingertips.  So, when is the last time you took a moment during the day to just gather your thoughts? Before Thanksgiving, most likely.
An article featuring lifestyle guru, Oliver Heath, surveyed nearly 3.7 million people who say their bathroom is their chosen place of peace and refuge. It's become one of the few calming spots where we can be alone with our thoughts (as long as the kids don't figure out how to pick the lock), and take a break from our smartphones, laptops and the noisy chaos of a busy family. The bathroom is a place to restore our mental and physical energy, which is especially crucial during these busy holiday months.
Some modern lifestyle figures that bolster this report:
48% of us now work from home, at least some of the time.
67% of respondents are spending more time at home for entertainment or dining than going out.
As a tile distributor, what do these stats tell us?  
That it's important for our homes to satisfy our much-craved sense of peace. We need to identify the places in our home improvement plans where it might be worthwhile to splurge a little, and other places that might make more sense to choose a more cost-effective option. Byrd Tile's in-house design team can help you discern the smartest places for these "splurge versus save" decisions, and provide you with material options that will allow you to fulfill your dreams within your budget.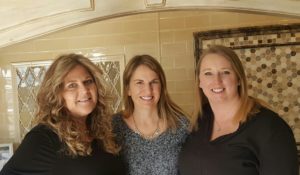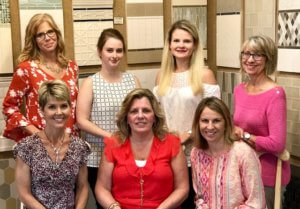 In terms of ROI, we all know that kitchen and bathroom improvements give a lot of bang for their buck. If you're not in the market for a complete renovation, though, simple updates like new tiling, updated fixtures, and dramatic lighting can improve the look and feel of your room.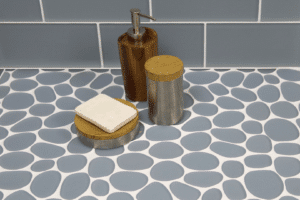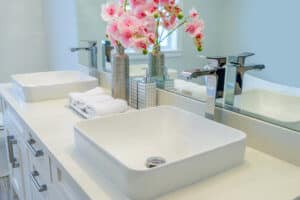 Create Your Retreat
This Old House recently shared an article on 13 Relaxing Spa Bath Retreats, with ideas how to create your own private, zen-inducing space. Relaxation means different things to different people, but we found some main themes in the article:
STORAGE: Clutter-free is always the way to go. Choose open storage for crisp, white, fluffy towels, but closed storage for toiletries that aren't as streamlined. If you have items in your bathroom that need disguising (for example, an on-demand water heater), choose shoji screens that do the trick but won't block natural light.
BATHTUB: What a treat it is to lock the bathroom door, fill the bathtub with hot, bubbly water, sip from a chilled glass, and flip through the pages of a favorite book. Having a luxurious soaking tub underneath a large window, with wide decking around the sides for candles and a glass of wine is a bathroom feature that never goes out of style.  Regardless of materials and tiling and colors, these tubs create a comforting ambiance and provide cocoon-like relaxation.
LIGHTING: Soft, ambient, energizing, rejuvenating, bright, glowing, natural. Whatever adjective you use for your ideal retreat, lighting is key.  Don't overlook this detail.
DESIGN FEATURES & FIXTURES:  With so many options to choose from – wall textures, colors, finishes, furniture, visual illusions, it can be overwhelming to strike the right balance. Overall, choose organic elements to create an earthy, relaxed vibe, and hues that evoke a serene, cool, relaxing feeling for you.
No matter which of these themes speaks most to you, the end goal is for you to enjoy the retreat you curate. Harmony can be found in many forms, and even amongst the holiday buzzing, it is possible to create a private oasis of relaxation and tranquility.  The design experts at Byrd Tile are poised to assist you with choices that fit your budget and needs, so call us today.