HELP, I SPILLED ON MY NATURAL STONE!  STAIN REMOVAL GUIDANCE.
Natural stone is a thing of beauty. A creation of wonder, that some might say it could only come from the divine. But like all things, once you start to use it, care must be taken to protect it. : seal it, wipe counters after each use, clean and dry showers, etc. Inevitably, unless you never shower or cook, you will have to care for your natural stone. Here are some care tips for when the unthinkable happens. Good luck, and DON'T panic!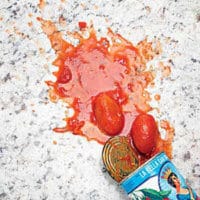 SPILLS AND STAINS
BLOT the spill with a paper towel immediately. DO NOT WIPE the area, it will spread the spill. Flush the area with clean tap water and mild soap and rinse several times. Dry the area thoroughly with a soft cloth. Repeat as necessary. If the stain remains you will want to apply a poultice.
There are several options for poultices. One is a simple organic poultice of baking soda and water mixed into a peanut butter-like consistency. Once mixed, spread this over the cleaned spill area and about 1 inch past the edges of the spill. Cover with plastic wrap. Press out all of the air and tape the edges down to the counter. You will let this sit for 24 – 48 hours until completely dry. When dry, remove plastic wrap and scrape away the dry poultice. Depending on the stain, you may need to repeat this step. Check out this video.
COMMERCIAL POULTICE ALTERNATIVE TO BAKING SODA
While the above method is great for minor spills, it is recommended to have a commercially purchased powder on hand that you can mix with different chemicals to pull out the specific stain.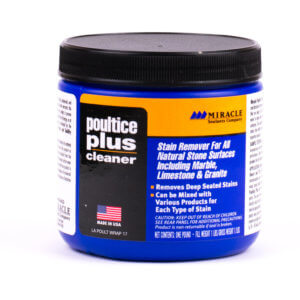 The Poultice Powder™ from Miracle Sealants that we carry is one such product.  Check our hours to stop by and pick some up see our other selection of tile cleaners.
Please refer to the list below for suggested chemical to poultice combinations for stain removal from the Natural Stone Institute. However, for the homeowner we do recommend consulting a natural stone specialist or the Natural Stone Institutes website for more specific information.
POULTICE AND CHEMICAL COMBINATIONS
Remember that the mixtures should be the consistency of peanut butter when applied.
OIL BASED STAINS: Poultice with baking powder OR one of the powdered poultices and mineral spirits.
ORGANIC STAINS: Poultice and 6% hydrogen peroxide.
INK STAINS: Poultice and 6% hydrogen peroxide or ammonia.
RUST STAINS: Poultice with diatomaceous earth and a commercially available rust remover. Rust stains can be particularly difficult to remove., so keep in mind that you may need to call in a professional!.
RESEALING NATURAL STONE
No matter the installation, shower tile, kitchen back-splash, or countertop, it is recommended that all natural stone be resealed annually. This is easy to do: stop in and ask what products are available!
SaveSave