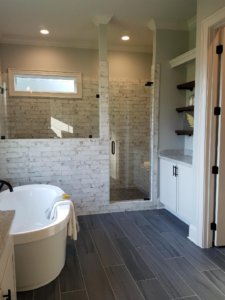 Honed (aka matte) finishes are one of the many options we have today in tile and stone. It is the authors favorite of the finishes!  Honed tile is elegant, but also can have that popular rustic feel we see so often today.
Very simply, honed means that the stone has been ground to a smooth finish, removing any natural polish/shine that the stone has.  When a honed tile is used in places that may easily stain (like the kitchen), extra attention should be given to sealant application.  Stone is extremely porous and if a sealant enhanceris used, it may darken the finish of your stone, so do a test on the stone using simply a damp cloth and rubbing this over the tile to be sure that the look an enhancer gives is what you are looking for.  Please note:  A simple sealer will not affect the appearance, and ALL stone products should be sealed.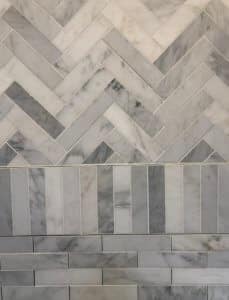 Porcelain, which is a different product from stone, when in a matte or honed finish, has the same look as honed natural stone.  The advantage to porcelain over stone is that the surface is non-permeable and therefore not prone to staining the way a natural stone is.
Before you become attached to one type of finish or another, it is wise to consider these questions:
Is the slipping or falling a concern for you in the use of this product? Ask your design associate for information on slip rating or ADA ratings.
What elements will the tile be exposed to? Indoor, outdoor, floor, wall or kitchen.
Staining possibility: What will you be doing in the area you will be tiling?  Light use, bathroom, cooking, laundry, or mudroom.
Contact one of our sales representatives with any questions you may have, or for help in selecting your next project!