'Tis the season of Holiday Cheer, Merry Mingles, and Family Traditions.
Arguably the most utilized area of a home for gathering during the holiday season is the family/living area. It's where Santa comes down to leave presents for good boys and girls. It's where families and friends open presents. It's where the ball is watched dropping on NYE on the big screen.
At Byrd Tile, our expert design team can work with you to make sure your place of gathering is functional, stylish, and feels like home. From your choice of flooring for the room to making a fireplace the design staple with decorative tile, we've got you, and your living area, covered.
Wood-Look Porcelain Tile
For a room that yearns for elegance and serenity, yet high-traffic functionality, wood-look porcelain tile is a desirable option. Wood-look porcelain gives you the same warm, cozy feeling as real hardwood, without the risk of being easily scratched and water-damage susceptibility.
Wood-look porcelain is also a great option to spruce up a fireplace design. It gives the natural look and feel of wood to a fireplace without the fire-hazard danger associated with true wood.
Terracotta
Another tile option for living or family room usage is terra cotta. As a type of ceramic, terracotta is strong, durable, is mold and bacteria resistant, and reduces noise pollution. Its notoriously reddish-brown shades give off a natural warm, cozy feel.
It is also fire resistant, making it perfect for the floor around a fireplace, or for an artisanal appeal to surround your fireplace with.
Slate
For a darker, warm, and earthy feel, Slate is a great option to use in your family room or living room. It's perfect for high-traffic areas and comes in a variety of colors to go with any decor one has.
Stone and Decorative Tile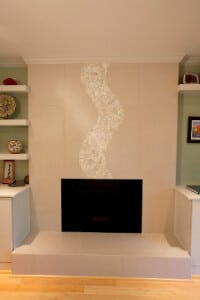 Stone and decorative tile pieces add a beautiful design element to any fireplace. Stone can create a natural, earthy feel. Decorative tile can stand for an expression of eclectic art and add an element of uniqueness to one's living area. From patterns to mosaics, design and style options are endless!
Let Byrd Tile Designers Help with Your Living Area
For a variety of looks and feels for your living or family room, check out our Living Areas Gallery. Need help choosing a unique element? Contact one of our design experts to help create your staple piece.