BATHROOM TILE:
YOUR GRANDMOTHERS BATHROOM
Thinking back on my experiences with tile, my only exposure growing up was this pink and black bathroom tile. Today it is very 'in' to have a retro look, but for those of us who grew up with this, it reminds us of our age. Let's dive into all of the options available today in terms of shapes and textures to expand our horizons.
Base Tile
The industry term for the main tile in your design is "field tile". This is the tile that in most cases will take up the majority of your layout. A field tile most often refers to a wall tile of any shape and texture.  An example of a field tile would be a 3×6 subway tile in any material you can imagine, but an arabesque would also qualify as a field tile.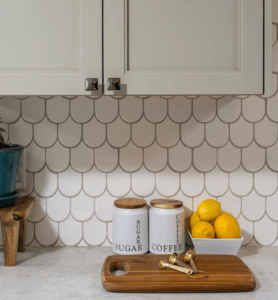 Shingle Robert A.M. Stern Collection by Walker Zanger
The "classic" sub-way tile comes in sizes including 3×6, 3×12 and 4×16. Textures vary from smooth and glossy, beveled, hand-made look, to 3D. Nope, Nana didn't have those choices.
Shapes 3D by Dune
A 3D field tile really gives life to a wall. Some 3D collections come in multiple colors and if you want to get really creative you mix the colors for a mural effect.
Accent Tiles
The accent tile is where you can really get creative. Back in Mamaw's bathroom, you can see that some of the floor tile was used to create a decorative border at the mid-point around the room. This makes it an accent tile. Accent tiles can be used exclusively as wall decos or can do double duty on the wall or floor.
Think about the Websters's definition of ACCENT. "To empathize (a particular feature.)"
In today's trending design, there are ways to get exactly what you want without breaking the budget. Wouldn't everyone LOVE to have a waterjet marble inlay installed in their floor or wall that is 100% maintenance free? An accent is the perfect compromise. As you walk around and look at all of the different options for accent strips and border inlays, feel free to talk with a designer about what your options might be.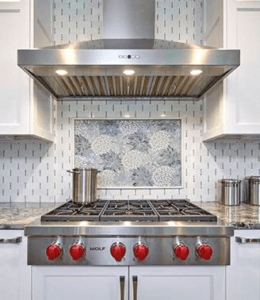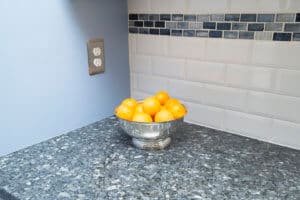 Photo Courtesy of Burke Designs                                                                  
Estrella by Artistic Tile
In the first kitchen photo above, you see the narrow mosaic accent is used to pull out the blue in the wall color. But, on closer inspection, there are enough other colors in the mosaic that if they decide they are tired of blue, they have a good range of colors to pull from.
Our second accent is a framed waterjet inlay above the cooktop. This certainly could be used on the entire surface of the wall. However for the budget conscious, this inlay is being used just as we discussed: to accent.
Trim
Probably most important to a finished project is the trim. Whether you are doing a framed inlay and need pencil liner, or you simply need to finish off the end of your back splash, do not forget the importance of this detail. Your design professional can assist you with this, but simply be aware that not all projects will have finishing in the same material as your tile. There are very modern sleek looking finishing pieces that we at Byrd Tile refer to as "Schluter Strips". There are loose and finished samples for you to look at in the showroom, or checkout this blog post for more information on metal trim.
Schluter ® QUADEC-K
I am sure whatever you decide on, that your Grandma would be proud.