Happy Fall, Y'all! 'Tis the season. Fall brings color changes and the smell of apple cider. It also brings mild days and cool nights. What better way to spend those chilly evenings than around a fire place or fire pit in your outdoor space? Dancing flames enhance any outdoor gathering.
Adding a fireplace or fire pit to your outdoor space? Let Byrd Tile help.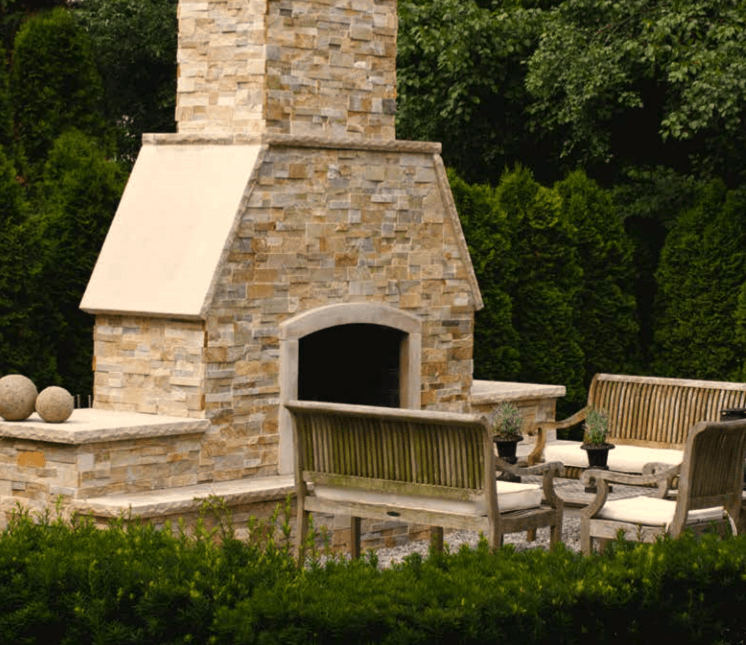 In our Summer Outdoor Space blog, we mentioned that Natural Stone, such as quartzite, limestone, and slate are great for outdoor usage, as their native, earthy colors fit the environment. Unglazed porcelain is another great option for outdoor utilization, as is wood-look tile, which gives you the rustic, natural beauty of wood but the long-lasting quality of tile.
But what are good suggestions for building up fireplaces and fire pits in your outdoor retreat?
Here are some questions you should ask yourself before starting the design process on your fire haven.
Location. Will it be directly on the patio and/or close to the home? Or will it be in the back corner of a large yard, set away from everything else? If it will be located closer to the house, consider materials that will complement your home's architectural design and style. If you want it more as a focal point, think about using something that will make it stand out, such as bold mosaic tile or a blend of stone and stainless steel. If it's set in the back away from the main point of the yard, don't be afraid to give it it's own personality and stand out from everything else.
Usage. What will it be used for? Will this be a place of gathering for friends? A special retreat for pondering all the mysteries of life? Or will this have more of a campsite feel, where quality family time will ensue and the kids will utilize the space for camp outs complete with hot dog roasts and s'more building? Think about the type of seating your space will need to make sure everyone is accommodated.
Cooking. If you're planning on utilizing the space for more than just warmth, make sure to choose a material that supports a grill or allows for roasting meats and marshmallows over the open flame. Please note, some gas fire pits aren't really designed for cooking. If you are going to use it to cook, stone, cinder block or brick fire pits are the best option, as they easily accommodate grills or rotisseries.
Budget. Designs can vary depending on how much you want to spend on your fireplace retreat, something basic and simple to a masterpiece of intricate design. Do you want an open flame pit, or are you looking for more of a true, smoke stack fireplace? Some materials are cheaper than others, such as cast iron, a basic stone campfire-type ring, or a cinder block fire pit you can build on your own in just a few hours. Or, you may want to invest in an eye-catching gas-fired fire pit, encased in a sleek steel table and filled with fire-glass.
Mind Local Ordinances. Before deciding on any of the above, have you checked to make sure your space will be up to code with your neighborhood, city, or county (depending on where you live)? The last thing you want to do is build your dream outdoor fireplace or fire pit, only to find out it's not allowed because of its location or size!
At Byrd Tile, our knowledgeable designers can help you sort out the answers to the above questions as you begin planning your new outdoor fireplace or fire pit retreat.