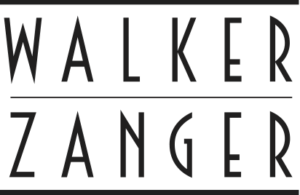 At Byrd Tile we are proud to offer you a large selection of Walker Zanger tile.  This designer tile comes in a wide range of material,  from ceramic to marble.  Any one of our 3 showrooms can assist you with your next project!  Contact a designer today for an appointment
Walker Zanger is a family-owned business since 1952, Leon Zanger and Marvin Walker each put in $1,000 to found Walker Zanger and began promoting Portuguese marble tabletops to the NY furniture industry. After selling out of their first shipment of marble tabletops within 30 minutes, Walker Zanger expanded to sell to clients like Gimbels & Macy's. Leon Zanger sensed a market for marble tiles, so he promoted their use in a series of articles, naming them "martiles" – a term which became the industry standard for many years.  In 1954 – Walker Zanger's first showroom opened at 100 Hudson Street, Manhattan.  From there, they have since expanded!
This design from the Studio Modern Collection is just one of several in the large format "architectural" tile series.  The collection by Michael Berman represents an exploration of iconic Californian architectural styles, from Art Deco to Palm Springs Modernism.
Handmade in Walker Zangers own factory, the Andalucia Collection features dimensional glazed terra cotta and ceramic tiles with a sophisticated antique patina in shades of blue, green, and white.  This collection is inspired by details in traditional Moorish architecture
From shingle clad homes in the country to elegant residences in the city, Robert A.M. Stern Architects is world renowned for contemporary interpretations of classical architecture. Walker Zanger brings this design vision to a wider audience with a collection of tiles in a multitude of colors, shapes and textures.
Walker Zanger works toward a value of understanding relationships, consistency, and integrity. Their brand's longevity and success are built on relationships that span generations: from the stone quarries and artisanal workshops where they conceive and produce distinctive products, to the lifelong clients and partners who select their tile and stone. Earning the client's trust and exceeding expectations has been their commitment.
Being aware that renovation projects can be extremely time-consuming, we at  Byrd Tile strive to offer you the same commitment of trust and exceeding expectations.  We look forward to serving you in the near future.
Raleigh (919)876-5997
Winterville (252)756-5997
Wake Forest (984)365-8799