Spring Home Remodel Ideas
Spring is officially here! The sun is shining, the flowers are blooming and the winter coats are being packed away. Spring is a time to refresh and start anew – and that includes the interior design of your home.
You're probably already planning to do some spring cleaning, why not update the tile backsplash in your kitchen or upgrade your guest bathroom in the process? It's amazing what a little remodeling can do to make your house feel that much more cozy and inviting.
Here at Byrd Tile Distributors, we're fortunate to work with some very talented interior designers. We always carry a large variety of tiles – from trendy to traditional – so designers know they will find the perfect new tiles for any size project.
In the spring spirit of refreshing and remodeling, we wanted to share with you some gorgeous updates that interior designers in the area have done using tiles from Byrd Tile.
Knollwood Drive Kitchen Remodel
This kitchen remodel by Burke Designs is truly stunning – it looks like a completely different house! The upgrades really open up the room and make it appear so much larger and brighter.
The backsplash tiles and the porcelain wood-look floor tiles are both from Byrd Tile Distributors. Porcelain wood-look tiles are a great option for the kitchen. Not only do they look nice, they are much more durable and scratch-resistant than traditional hardwood floors.
Modern Farmhouse Kitchen
This modern farmhouse kitchen design by J. Hoffman Studio is open, airy and gorgeous. We love how light and bright it is, perfect for making a delicious home-cooked meal as a family!
The kitchen backsplash features 4×16 Streamline Artic Bright tiles from Byrd Tile Distributors. In fact, these are some of the stock tiles that we carry, meaning we keep them in store, with no need for a special order. They're perfect tiles for a quick turnaround job, and we have many other options that you can see here.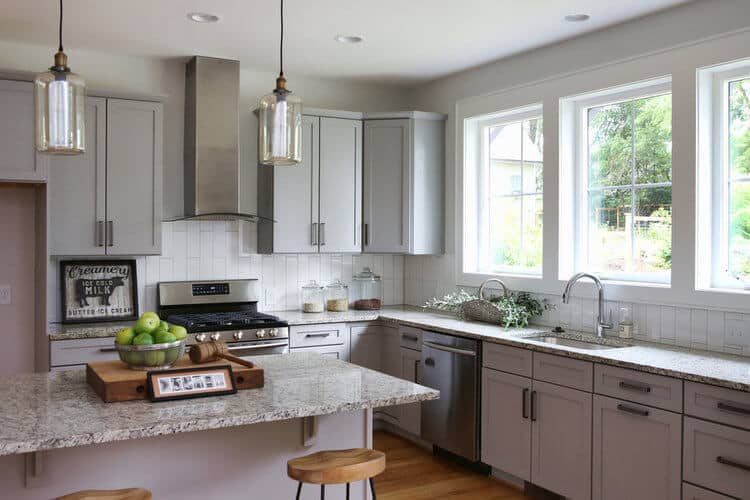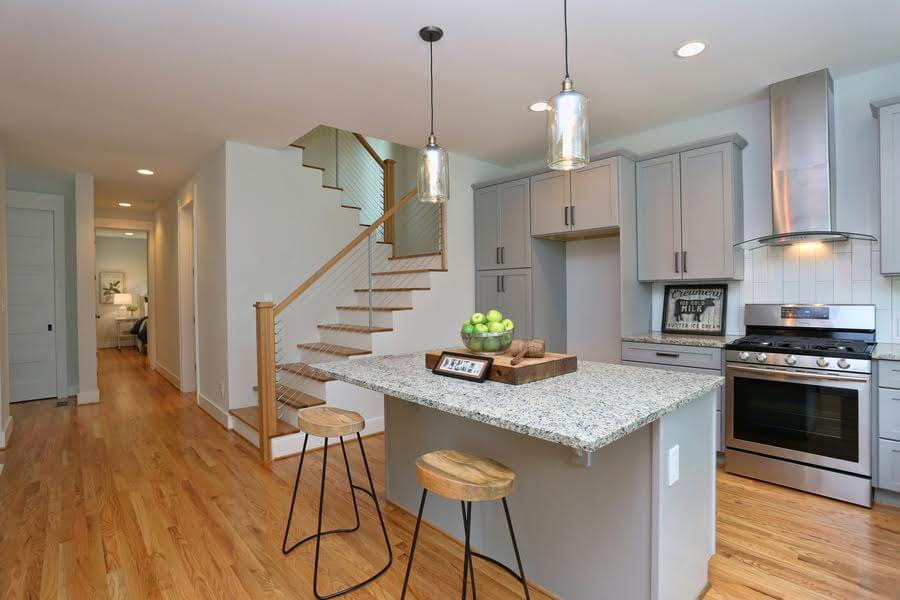 Seagate Drive Hallway Bathroom Remodel
This hallway bathroom got a beautiful upgrade by Burke Designs that transformed it into a bathroom that guests would love. The upgraded appliances and brighter walls gave it a much more modern, spa-like feel. The shower curtain and the floor tiles from Byrd Tile really pull the whole look together.
Are you looking to remodel your home or business this spring? Schedule an appointment with our expert designers and we'll help you pick out the perfect tiles for your project, no matter how big or small it may be!