The perfect outdoor space is a haven for summer. From entertaining guests to making memories with family, to cooking the best barbecue and just enjoying the beauty of nature, having the outside be as welcoming and cozy as the inside makes for a wonderful summer.
Need help designing your outdoor space? Byrd Tile is here to help.
It's important to prioritize how the space will be utilized before making any decorating decisions. Don't have much room? A few simple bistro-like pieces make a great morning retreat for a cup of coffee. Will it be for dining? The grill and table should be the first of key pieces.
If the space will be used a little more than just for a quiet morning cup-o-joe, start to envision the space as you would a family room or den. Reimagine a room, just without walls (unless walls are absolutely pertinent, in which case invest in fencing). As a gathering space, choose welcoming, key pieces such as a sofa, armchair(s) and a fireplace.
Don't be afraid to step outside (literally!) of the box on design, especially compared to how the interior is designed. Outdoor space can be as unique as your imagination. Where would you want to vacation to? Use your favorite vacation destination as inspiration for design. Think tropical paradise, a beach resort or rustic getaway.
Have a good space but want to use it as a space all to yourself? Suspend a swinging seat bench in the corner to help you breeze through the lazy days of summer, or add a garden hammock to trees. Swings and hammocks make a great place for relaxing, catching up on a good read, or to simply zone out.
No matter how the space becomes together, make sure to be smart about style and choose a solid base for the table, weather-resistant furniture, and coverage from the sun. Also make sure the space itself is made from the best outdoor material.
For outdoor patios, kitchens, and cabanas, there are several options available. Byrd Tile recommends the types of flooring below for your outdoor retreat: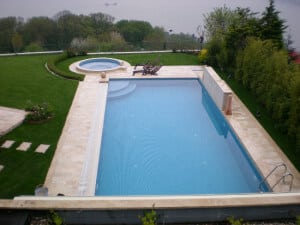 Quartzite, limestone, and slate make sense for outdoors, as their native, earthy colors fit the environment, and has been a more popular choice for outdoor flooring. Natural stone is perfect for sunny outdoor patios, as it doesn't fade, even with the sunlight shining on it directly for hours. Just make sure it is sealed when needed, as slate can become quite porous. Matte and shiny versions are both offered as a sealant. Natural Stone is also an ideal option for those with pools, as its multicolored look is perfect for boulders, cascading waterfalls, and other natural elements. Choosing natural stone will have you and your guests the feeling of an outdoor paradise.
Although glazed porcelain is typically used inside, unglazed is the preferred for outdoor use. It's fairly stain resistant, making it an ideal choice for high traffic entertaining areas. When deciding what style of porcelain to use, pay attention to where you'll be laying the tile. Is it a shady part of the yard that will be dark at night, or does the sun cover it most of the day and make it well-night when night falls? Light colors can help brighten up the space, and white or cream-colored porcelain is a perfect way to brighten up the shady, darker areas. On the flipside, using earthy, darker tones is a great option for well-lit areas, as it will tone down the brightness.
Wood-looking Tile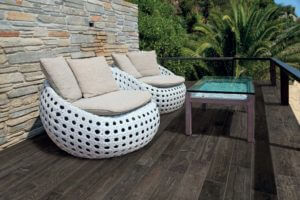 Want the rustic, natural beauty of wood but need the long-lasting quality of tile? A big trend is tile that resembles the pattern of wood, which gives the best of both worlds! Not only will it stand up to moisture, which is critical in an outdoor space, but it will also offer the rustic charm and natural beauty of wood.
Still don't know where to start? No worries. Our expert designers can help spark your creativity as you begin planning your new outdoor space.