Ah, fall. 'Tis the season of cooler weather, pumpkin everything, and beautiful color changes. Shades of red, orange and brown outline the streets. However, these shades aren't only popular during the autumn season.
Terracotta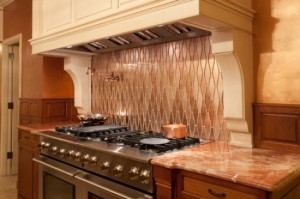 The rustic, southwest, Mediterranean, Old-World styles of terracotta are becoming more popular for usage in American homes. What is as prevalent in Europe as hardwood is here, terracotta makes for a great option when looking for durability.
Terracotta (or terra cotta, or terra-cotta) means "baked Earth" in Italian. It is made from natural clay deposits from the ground. Throughout centuries, cultures have used clay for both building construction and for sculpture. Using it as flooring has been in practice since the beginning of civilization.
History Lesson: Terracotta tile and bricks were made for defensive city walls, floor coverings and wall decorations of important shrines dating back to Mesopotamia in 2800 B.C.!
Terracotta is a type of ceramic, which is made from a reddish clay that has gone through a heating and cooling process. Heating is done in a kiln. The clay it is made from contains iron, which gives terracotta its distinctive coloring. It can be various shades, ranging from the widely known reddish-brown tints, to pinks, yellows and even gray.
Terracotta is strong, durable, fire resistant, and made from natural, non-toxic material. It is also frost resistant and reduces noise pollution. It is also quite porous, so it has to be glazed in order to maintain its resistance from water.
The warm and earthy feel of Terracotta is offered in a variety of finish styles. It is suitable for both indoor and outdoor usage, and is resistant to mold and bacterial growth, making it perfect for usage in and around the house.
If you're looking for a non-traditional style with a touch of European influence, terracotta may be the way to go. Contact our experts today to help you design your dream kitchen, bathroom, or outdoor space!