Protection
Cleaning begins with protection.  There are different opinions on what types of tile need to be sealed with a seal and protect product.  A glazed tile will not need to be sealed.  A glazed tile is like glass and a sealer will not be needed to penetrate the product.  For high use areas and especially for natural stone and unglazed tile, you will want to use a product that seals the tile and grout to protect against water, stain and slipping.  This 511 Impregnator Sealer from Miracle sealants is a top rated sealer for tile and grout and we generally have it in stock and available for pickup at your convenience.  Applying the sealer can be done by your tile installation professional or try it out yourself with help from this YouTube video.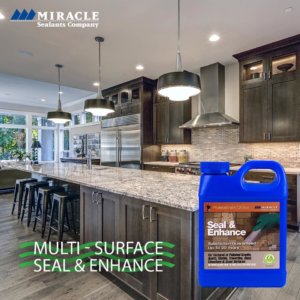 For the situation where your tile really does not need sealing, we always recommend using a grout like Bostik Vivid that is rapid curing, stain resistant and provides a color protectant.  If you would like additional protection for your grout or prefer to use a basic grout, this Grout Sealer can be purchased through special order by speaking to one of our staff.
Day to Day Cleaning
Cleaning tile surfaces can be done by simply using water.  How easy and inexpensive is that?  There are times however that you may want a bit more power behind your cleaning. Caution needs to be used in what product you use.  Do not use an acid-based cleaner such as vinegar or bleach, the acid content will gradually eat away at the grout.  Likewise, do not use oil/wax-based cleaners such as Pine-sol or Murphy's Oil Soap, these types of products will be absorbed by the porous grout much like a stain is absorbed and will discolor/stain your grout.
So, what can you use? According to the Tile Council of North America, a simple stain on your grout can be removed in the same way you would remove a stain from a spot of clothing. In other words, "shout it out". Be sure the stain remover is not bleach based and you are good to go.  For all over, everyday cleaning an alkaline cleaner like Spic and Span or Mr. Clean will do the job and protect the integrity of your grout.  Look for other PH Neutral products at your local retailer.
For something stronger than your everyday cleaner, we offer more professional grade Tile & Stone Cleaner from Miracle Sealants. Call ahead to order yours.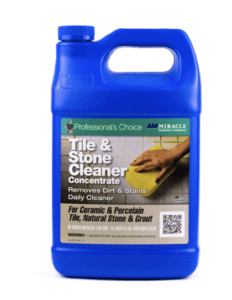 For more information on natural stone stain removal, check out our BLOG.