At Byrd Tile, we have searched the interwebs for the latest trending decor for 2017. Some trends carried over from last year, such as subway tiles and faux finishing, while others are exploding out of nowhere.
In general, 2017 is shaping up to be the year of boundary-pushing decor and interior design. Think radical colors, mixed patterns that match, and textures.
Here are the Top 7 Decor Trends in 2017:
Marble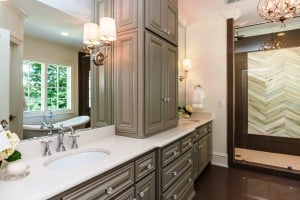 Marble seems to be popping up everywhere these days, throughout all areas of the interior design industry. Pairing nicely with wood and metal, marble isn't only for fancy countertops and pricey flooring anymore.
Looking for something even more trendy? Try a Marble and Brass combination, which mixes something natural and clean from the marble with something industrial, hard, and a touch of glamorous with brass.
Jewel Tones
The days of everything beige are a trend of the past. 2017 is shaping up to be the year of drama, with deep jewel tones such as amethyst, emerald green, and other dramatic colors naturally found in nature
Subway Tiles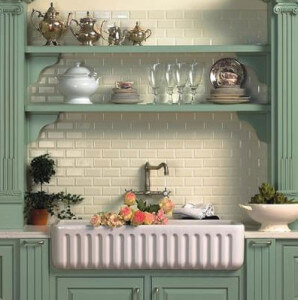 While definitely not new to the trendsetting scene, subway tiles are now being utilized with unconventional pairings, such as dark grout, for an unconventional look. Regardless how one puts their subway tile into play, one thing is for sure – it's an affordable, versatile choice that will be a continuous chart topper for this generation.
Mixed Patterns
Spotted first on New York's runway in the fall of 2016 (the runway is a pretty good predictor of trends coming to the home), mixed patterns seems to be hitting the indoor decor as well. Pattern lovers, rejoice! No staple pattern can be too busy, at least according to this new trend.
Cerused Wood
Referring to a technique that brings out the uniqueness of grain in wood, cerused wood is a once-high-end-trend that is now making its way into the universal world of interior design. Used for everything from cabinetry to furniture pieces both big and small, to flooring, you'll notice this new trend entering the design scene everywhere.
Faux Finishes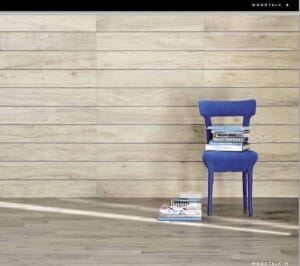 Homeowners are asking for it and designers everywhere are dishing it out: Faux material isn't only budget-friendly, but sometimes more reliable compared to authentic materials. For example, traditional wood ceiling beams can rot or bow over time, whereas faux wood won't.
(Bonus trend alert: you'll see Farmhouse trends, such as wood ceiling beams, coming into design style full force this year. Thanks, Chip and Joanna!)
Wood-look tile is especially trendy as of late. Check out our previous blog on wood-look porcelain tile to learn more.
Texture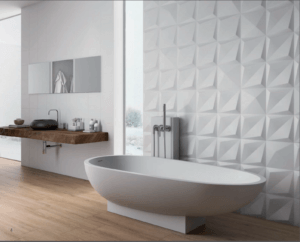 If you're feeling philosophical, this trend will cater to you. As human beings, we like to touch. There's a certain connection to something if it has a special feel, and textures offer that particular type of engagement. From brass tables to spunky light fixtures to tiles, fabrics and stand-out wallpapers, textures are trending. You could even try textured tile.