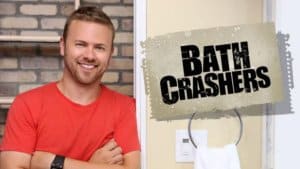 How many of you love to curl up with a cup of tea under a fluffy blanket to binge "Bath Crashers" on DIY?  (Anyone? Just me?) I just love Matt Muenster's insight into remodeling trends and imaginative designs and incorporating fresh ideas with tiling, textures, colors, and patterns.  Now, if I could just get him to come crash my bath …
Until then, I'm daydreaming about his recent list of the best bathroom remodeling trends. And lucky for all of us, Byrd Tile has the selection and experience to assist with the perfect custom materials for your next bath (or kitchen or living room or …. any other tile or flooring) crash project.
Mediterranean-Inspired Design
Moroccan charm has been hanging on for years as a front-runner in design preferences, and there are many choices of Mediterranean tiles with depth, color and style. Think: a little shine meets a little rusticity, an elegant combination of the "feel" of terra cotta mixed with modern luxe metallics.
Similarly, Mosaic tile adds an interesting "wow factor" to any room in your house.  And since a little bit goes a long way, you can be daring with your selection.  Backsplashes, accent areas, focal points … they all get an instant, rich update with this tile feature.  
The beauty of Mediterranean-inspired designs is that old-meets-new patterns, materials, colors, textures – they're all allowed.  Let your imagination lead the way.
Classic Whites
Have you ever seen 1970s photos of your favorite actors (or even your old non-famous schoolmates) who appear not to have aged in 40 years?  Good genes, yes, but more than likely, it was their timeless hair & fashion choices back then. Imagine white subway tiles as the Audrey Hepburn of tile style – a classic look that will carry you through decades of decor, safely and stylishly.  Accessories, fabric decor, and other trendy add-ons can add the pizzazz you're looking for as the years go on, but rest assured that white tiles are a smart investment that never goes out of style.
Ease of Use

Curbless showers have ageless accessibility for homeowners who remodel with long-term usage in mind. These no-threshold showers are practical, easier to clean, and often allow homeowners to safely "age in place" without needing to make updates. Many of our friends are seeking 1st floor master bedrooms, one-level living, and ADA-compliancy features and, even if this doesn't turn out to be your "forever home", the resale on these tiling investments are always a safe bet.
Three-Dimensional Tile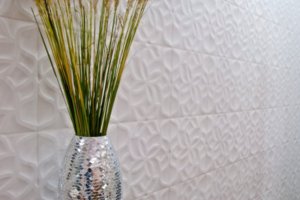 Like a lovely Damask fabric, three-dimensional tiles are interesting without being distracting. These design tiles add just the right amount of eye-catching texture (and make you want to reach out and touch them when no one is looking). You can be bold in your pattern choices, as the monochromatic tiles stay quietly camouflaged within the overall room's design.  Their symmetry and organic movement create the ultimate zen in tile choice.
No matter what direction you're leaning for your next project (or don't know where to begin and are looking for some guidance), trust Byrd Tile's selection and expertise to get the job done right, on budget, on time, and most importantly, with a richness and style that stands the test of time.