In honor of Valentine's Day, the staff at Byrd Tile wanted to shed some light on the color of love: Red!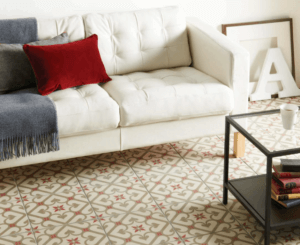 Although red is exciting, demands attention, and is the color of passion, it can take the tone of angry and aggressive really quickly. Such a powerful hue can easily be used too much. With such a dominant color walking a fine line of representing passion and desire with danger and anger, how does one properly utilize the color red in home decor?
When it comes to red, having less is more. Using red as an accent color is always the safest bet. From an accent wall to lighting, or pillows, vases and other simple artistic pieces, there are plenty of ways to draw attention to parts of a room without feeling like the color is aggressively attacking.
One way is to use shades of red in home decor that best represent the feeling you are trying to achieve.
Different shades hold variable meanings. From fire engine to crimson, to merlot and rust, there are endless ways to use red to create a specific mood.
Light red represents joy, sexuality, passion, sensitivity, and love.
Pink signifies romance, love, and friendship. It denotes feminine qualities and passiveness.
Dark red is associated with vigor, willpower, rage, anger, leadership, courage, longing, malice, and wrath.
Brown suggests stability and denotes masculine qualities.
Reddish-brown is associated with harvest and fall.
Orange-tinged is associated with brightness and energy.
Purple-red suggests quietness and intimacy.
When you combine shades of red in home decor with other colors, you can add even more versatility.
Cream colors with red actually help to tone down the vibrancy of such a dominant color while still offering a stylish, family-friendly pop.
Deeper reds and gold are full of grandiose and luxury. A timeless, sophisticated combination, these shades are paired best in a more formal setting, such as a dining room.
Magenta or soft grays with red create a cozy, soft, sultry and feminine feel.
Red and Gunmetal attract the more hipster and industrial crowd; great for the more artsy people and those aiming for more of a masculine look.
Rich red with navy is a favorite for Nautical enthusiasts. It's stylish and youthful, with a touch of preppy.
Earthy reds with wood tones create a feeling of warmth for a room.
Reds with brown also create warm, cozy feelings. Although it is not a typical combination, the two actually work quite well and offer a unique, feminine and chic appeal.
Red with black is a classic combination. Use these two together for a chic feeling.
Turquoise and brighter reds offer an exciting, vibrant, fun combination. Because it's so full of energy, this combination works best in a playroom or a more social space.
When choosing what shades of red in home decor to use, think also about the style of the house being decorated.
Contemporary.
If this is your style, incorporate neutral elements with small pops of bold red. Think a bright red item hanging from the door, or bursts of color in pillows, throws or rugs.
Country.
If this is your style, think about red tones based on country themes, such as a red barn or reds with pink and purple hues, such as the colors found on a crisp orchard apple. Country reds are more pale and soft. Accessorize with country reds in various fabrics and tchotchkes.
Modern.
If this is your style, any shade of red offers a modern-day feel. From primary hues to classic shades, from burgundy to reds with brownish undertones, no shade is off-limits. Choose a red you love to make a statement. Using a painting or a piece of art is a great way to incorporate red in a modern-style home.
Traditional.
If this is your style, toned down darker shades would work best. Think burgundy or almost-black tones. Deep, rich reds should be used on the door or perhaps an oriental rug with a darker shade.
Transitional.
If this is your style, follow similar rules to a modern feel. Work with small pops of red on a neutral palette. Choose softer and indirect approaches, like a piece of art or a red lamp. Stay simple.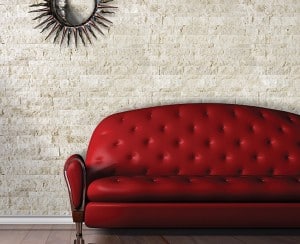 No matter what shade of red you choose, or how you decide to use it in your home, one thing is for certain: the dynamic color red is never boring. If you're looking to spice up your home decor, try out a shade of red.
Need help incorporating red in your home design? Contact our design specialists today to help!