What You Need To Make Your Tile Project Selections.
Selection and design are 2 key elements of your tile project. Yes, you need to know who will install your project, and have a schedule in place, but without the material and design plan you cannot move forward.  Follow along and we will help you set up your plan!
Room Color & Wood Work
Because every project has a beginning, you will start with the basics by selecting your base room color.  What direction are you leaning?  Cool tones or warm tones?  If you have a sample of your cabinet coloring or style please bring that along as well.
Having this decision made in advance will give you one less choice to make.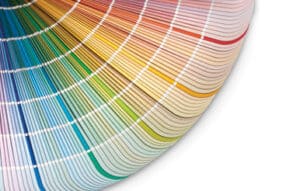 Accents
Whether you are doing a kitchen backsplash, fireplace, or bathroom, decide if you are leaning towards having accents in your space. Accents are small decorative touches that accentuate design elements in your home.  While you can make this decision at any time, it's definitely something worth considering.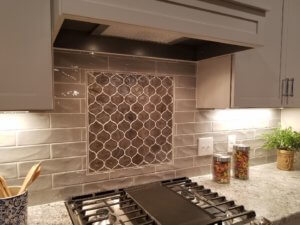 Functionality
What do you want the space to accomplish?  While a kitchen backsplash is decorative, it is also just as the name says: it catches the "splashes" of everyday cooking.  Ask your design professional if the product you choose is right for the space and your lifestyle.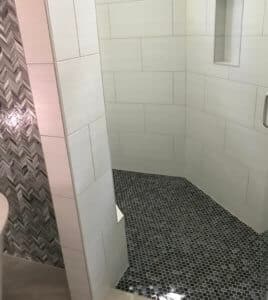 A bathroom has a few additional decisions to be made about functionality.  Would you like your shower entry to be step in, walk in, or zero entry?   Stage of life may determine your choice here.  Other factors include, shampoo niches, bench seats, floor warming systems, and shelves (just to name a few).
At Byrd tile we carry a line of finishing products that are by far the best available.  Schluter Systems offers a wide range of profiles, shower drains, floor warming systems and other shower accessories.  Profiles are used to finish floors and tile designs, while wall profile is used in place of tile bullnose to finish off the edges of tile.  For more details on floor warming systems please visit Schluters Floor Warming Page, you can even see the different thermostats available (we love the wifi control!)
Basic Material
This is where your design consultant can help.  They will make sure that all of the supplies needed for your project are included in your order.  Everything from tile and grout, to door transitions and finishing strips.  They may defer to your installation professional for some things, but they are here to see you have everything you need.
We hope that this information has helped take some of the anxiety out of your project!
Remember that we provide free design consultations by appointment.
Simply call or go to our website to schedule.
Raleigh 919-876-5997
Winterville 252-756-5997
Wake Forest 984-365-8799